How Digital Designers Can Manage Their Virtual Portfolio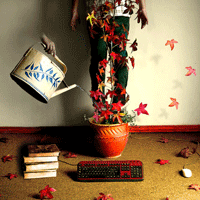 As a digital designer, you're likely to be focused on any one of several major areas. Whether your chosen niche is photo-editing, web design, print layouts, advertising, or logo design, one thing is certainly true:
People expect a lot out of you!
Not only do you need to have a sense of how to catch the eye of the viewer, use color, and utilize effective placement, you are also expected to have deep understanding of current technology. This makes your virtual portfolio even more important than similar portfolios are for other artistic fields. Here are some simple tips on managing your portfolio.
Show Your Masterpieces
One of the most common questions about setting up a virtual portfolio is how many images should be present. While some of the more extreme designers show as many as a hundred different pieces, this tends to overwhelm viewers. The best number of pieces to show off falls between one and two dozen. As such, you should only be showing your very best work.
If you don't have at least a dozen pieces that you're really proud of, take the time to create some before you begin.
Share in!
Some communities to share in to let your portfolio be seen?
Use Attractive Design
If you work in the web design field, chances are that you're building your own site, and that it will look absolutely gorgeous. However, if you're not familiar with CSS, HTML, Javascript, and so forth, you may want to consider hiring an expert to do this for you. An attractive design serves to bring your work into focus. Advanced tools like Lightbox 2 galleries are also advisable.
Retain Rights
When you contract with new clients, discuss the rights you're retaining with your creative work. Almost no one will have an issue with a small portion of the contract that specifies that you retain the right to use the work in your portfolio. However, taking this simple precaution can prevent a huge headache down the line.
Keep Your Portfolio Updated
Look through your work at the end of each month to see if there's anything new you would like to add. In order to make sure this process is easy, keep your images in cloud storage. This gives you well-organized access from anywhere that you have internet access, and it also dodges the risk of computer failure.
Try to add at least a couple new things to your portfolio every few months. That way, returning visitors will have something fresh to look at.
It Doesn't Have to Be Perfect
Digital designers are more prone to perfectionism than many other creative professionals. While this portfolio is a representation of who you are in the field, it doesn't need to be flawless. Do your best to meet all the standards above, but realize that it's better to have something out there than to have a giant void because you're "still not ready."
While a portfolio may be challenging to build, manage, and maintain, it can also be an emblem of pride. After all, this calculated demonstration of your abilities serves as a superbly beautiful foundation to the rest of your work.
Image Credit: pablobarra