New Free PDF E-Book about Corporate Blogging and Multi-Author Blogs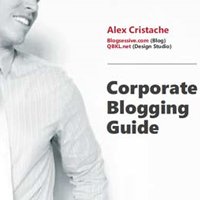 Alex of Blogsessive blog has impressed me couple of days back and while I am searching for some good stuff to read about Corporate Blogging and Multi-Author Blogs, I discovered a very interesting read in his new e-book Corporate Blogging Guide, which contain a very nice introduction to blogging world and history of blogging, and point you to some important questions that you should ask your self and try to answer them before starting your corporate blog along with guides on how to touch your market and to know what audience is looking for in your niche. Alex added some useful and awesome blogging tips in the book, and the great news here you can get it for free in a in PDF e-book format.
You can download the Corporate Blogging Guide from Alex's blog, actually the e-book worth to be paid for, as Alex did a great work on it, but all what he is asking for is to subscribe to his blog feed to download the e-book, I personally won't mind subscribing to his awesome blog even if there is no e-books, and no body is asking me to do so as I recommend his must read blog!
I want also to point to Alina who helped on translating and editing the e-book, she is the creator of Words of a Broken Mirror (WoBM), it's a PR and Marketing blog aiming to help companies and PR professionals improve their strategies, campaigns and daily communication tasks.
It's always good to discover new valuable blogs and to get to know interesting people, this is my way to have fun while working.