Is Blogging the New "Snail Mail"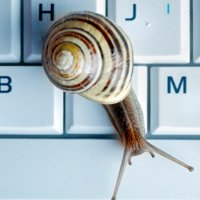 I gotta have it fast. I gotta have it now. I don't care if it's been verified, I don't care if I know nothing about the source. If it's real-time it must be good.
You probably know what I'm talking about. Real-time information is spit at us all day whether we like it not. We have friends on vacation that are tweeting pics of gorgeous beaches  to us while we sit in our bland cubicles. Please, just save your pics until you get back so I can ignore the entire gallery at one time… thank you!
If micro-blogging is the new kid on the block, old fashion blogging is the pimply faced teenager that doesn't do much, but you know you still have to take care of. Blogging has turned into "Snail mail."
If you've been living under a rock, "Snail mail" was coined to "Real mail" back when "Email" sprouted up. Email was fast and sexy, while mail was slow and filled with junk… I know it's very ironic.
Things change. the Internet  has changed, communication has changed and most importantly the way we promote our business has changed.
Why the snail mail reference?
Businesses are turning to blogs to create a personal, real, and most importantly sticky marketing. Make a blog post and it can guide search engine traffic to your website for years. With proper SEO, backlinking and optimizations your tiny little website can dominate larger companies. Unfortunately, it's not real-time.
Changes you make can take…Gasp!… Hours to produce any sort of visible result, and worse yet, it will take days to produce any reliable trends for analysis. Tweak something, monitor the results, tweak again is the mantra to highly-efficient, highly-productive business blogs.
Of course the same is true about mistakes you make. Recently, I moved my website from one host to another and started to see my traffic decline. It was especially noticeable from search engine traffic. It took about a week to see that something was definitely wrong. It took another week for me to see that the fixes I made stopped the loss of traffic.
The problem was, and still is, that I was making a few changes at the same time so I couldn't put my finger on the exact problem. I was changing some links to have "nofollows". I was changing my permalinks so I had some new 301 redirects. I think the main cause was the sitemaps for Google were not getting created anymore, due to permission issues.
Whether you think sitemaps are effective or not, I've heard it both ways, I definitely want one. Even more so now that I had this problem. There are arguments that page speed has little to do with SEO, but I saw with my own eyes the effect of page load time and SEO.
In Summary
Here is some advice for keeping your blog running like an exotic sportscar.
Do SEO audits. Log the changes you make, plugins you install, and results you expect. Every week or so, do a quick check. Go to the Google webmaster tools and check your keywords, sitemap, and page speed.
Try to only change one thing at a time. There are at least 100 articles written on SEO everyday. Don't just implement them all. Do one thing at a time, then you be judge. Every blog is different, and what will work for one will not work for another. Make a change, monitor it, test it, and tweak it…
Monitor the right metrics. traffic is a must, but you need the right traffic. Don't just look at Google Analytics and make judgement from one metric. If your search traffic is down but Twitter traffic is up, maybe people are starting to talk about you. Don't make changes to destroy the new source of customers, go with it. Momentum is a good thing, if you see a trend starting, use the momentum to push it along.
If you can't fix it, find someone who can. Don't lose sight on the fact that your blog is an extension of your business. If administering your blog  is taking away from your business, you need to get help. less traffic equals less sales, put a dollar amount on those lost sales and you will quickly see why paying for good help is often the best choice.
If you find something that works, tell others. I'm not talking about affiliate programs or ebooks. I'm talking about tested strategies that you have used on your blog. One of my most popular posts is a graphic showing faster page load times will get your website indexed by Google more often
Your thoughts!