Backlink Profit Monster 2.0
I am excited to announce the official launch of Backlink Profit Monster which I have been running in Beta for just over 1 month and we sold over 2,000 copies. Our tool extracts data so you can choose to get backlinks from top quality sites and blogs to post your links on! Amazing right?!
Well these backlinks are not just any backlinks…. Backlink Profit Monster goes out and finds top quality high pagerank dofollow backlinks, the kind of backlinks Google loves! Then in 2.0 we have a new feature which can auto post and spin these links on those high pr, dofollow sites and blogs.
Powerful Link Building Software
Have you ever wanted to completely dominate your competitors in Google? Ever wanted to have high pagerank quality backlinks money cannot buy? This breakthrough link building software seamlessly scours the internet for quality links to post on. It is a truly cutting edge system and is nothing else out there like it.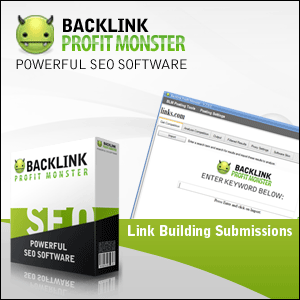 Here is a breakdown on what Backlink Profit Monster 2.0 consists of:
Get relevant backlink data using the keyword research admin.
Identify the top 10 competitors based on any niche.
Drill down on competitors backlinks.
Analyze their backlinks easily to determine which have high pagerank and are dofollow so you can submit to.
Create and export a list for you to easily post your link to the most important sites.
Auto post blog comments without doing the commenting manually. (This is genius)
Guys also get this… This software was valued to sell at $247 but for a limited time during pre-launch of 2.0 we are almost giving this away at just $97, this is an offer you cannot miss.
But even better as a thank you note to Hesham who has always been a great support to me on my products including Keyword Winner which had sold to thousands of happy customers I am going to also offer everyone a discount to people who buy through Famous Bloggers so here it is: $20 off the $97 license which will be just $77. –>> Famous Bloggers Discount!

This special offer will be available up until our official JV launch on the 18th of July, so this gives you a full month to get in on this discount.
If you are serious about building links in very little time with hardly any effort then this powerful link building tool is your answer!
Secure Your Copy Now!