Who is Going to Dominate Google?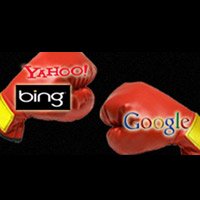 Back in the late 90s when the internet began to show its existence, we didn't really see Google anywhere. If you were online at that time, I say in 1997 then you might recall that AltaVista was a famous search engine and Netscape 4 was known as a top-notch browser.
People also used Yahoo a lot too to search for information they needed. In fact, Yahoo was very famous among new and young internet users.
But then, all of a sudden, Google came out of nowhere and dominated the 'search industry'. So, it means, before Google there were other search engines and directories too that enabled you to search.
The Big Question(s)…
Google dominated the industry long ago and is still the industry leader. The big question is that who in the world is going to dominate Google? Who is going to end Google's monopoly?
To answer these questions we need to look at Google's market share as well as their strategy that how they have managed to capture and take over the 'World Wide Web' so nicely and powerfully.
So, let's first take a look at Google's share in the Global Market and then see what they have done differently:
Google's Share in the Global Market:
According to the latest stats of NetMarketShare, Google had around 85% of the global market share in November 2010. Yahoo was on Number 2 with around 6% share. Bing, which was believed to be Google's fierce rival only had around 3% share.
So, from the stats, it seems as though no one will be taking over Google at least in the next decade.
Google Took Over the 'World Wide Web' Nicely and Powerfully:
Now, we need to look at the factors that allowed Google to stand-out from other search engines.
Relevance in Results:
I remember that back in early 2000, a friend of mine told me that how Google showed results relevant to your search query. This was something that made me try Google. It was Google's ability to show relevant results that attracted the users of other search engines and made them… switch! After all, when we search, we need relevant results and Google does a great job in it. Of course, it's not 100% perfect, but still it's really good.
Google Adsense Changed the Game:
We all use search engines to find information and every search engine should purely be judged based on its ability to show relevant results. However, with Google Adsense, Google managed to attract webmasters who wanted to make money online. See, when you are getting a chance to earn money from a company, won't you become loyal? Of course, you will and this also allowed Google to attract more people.
Other Powerful Products from Google:
Other than Google Adsense, Google always tried to 'come up with' or 'bought' powerful and useful products to keep the web users engaged with Google. For example, Google Analytics, Google Maps, Google Earth, YouTube, Google Adwords (for advertisers), etc. These products are common and well-known on the internet. They are high quality products and remind us of Google as a powerful search engine all the time.
So…What is the Conclusion?
Well, with such a massive market share due to Google's credibility as well as ability to show relevant results along with powerful products that engage the internet users all the time, it's hard to see any search engine dominating Google any time soon.
What are your thoughts? Do you see any search engines as a threat to Google these days?