The ABC's of Powerful Web Content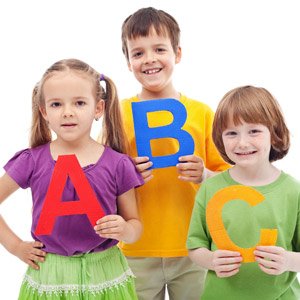 Buckle up, kiddos… We're heading back to school! But instead of focusing on long division and book reports, we're going to study something that can make or break your business — your content writing strategy.
Luckily, learning how to publish the most powerful web content is as easy as learning these ABC's:
A = Accessibility
Your target audience should be able to find your content all over the place — like on your own blog, on popular websites in your niche as a guest author, and even in their inboxes, thanks to your great newsletters.
B = Blogging
As in, if you're not doing it, you need to be.  Starting your own blog is a great way to show off your expertise and your personality — two things that are going to turn casual readers into loyal customers.
C = Consider
Before you publish anything, consider your target audience's needs.  If your content doesn't appeal to them — by answering their questions, solving their problems, or keeping them up-to-date with important developments — you'll never stand out ahead of your competitors.
D = Damage
As in, understanding the damage that bad content can do.  Even just one bad article, one fluffy blog post, or one piece of sales copy that's too hyped-up can damage your reputation.  Good or bad, the web content you publish is all a part of your brand.
E = Energy
If you're not excited about the topic you're writing about, no one's going to be excited about reading it!
F = Frankness
Being frank is especially important in your blog posts, because they can be much more emotional and opinionated than traditional articles.  Being frank means people may not always agree with you — but if you've got plenty of facts to support your position and the ability to make your content compelling, they'll at least read what you have to say.
G = Guest Posting
If you're looking for a way to attract more readers, establish your expertise, and build more links, guest posting on popular websites in your niche is the best way to do it!
Plus, you can get results from a quality guest post forever. That's because you never know when someone's going to stumble on it and be so impressed by what you've written that they buy something from you — or decide to share it with their own website visitors, email list, and social media contacts.
H = Hard Work
No matter what niche you're in, creating and maintaining a great content writing strategy takes hard work.  If you try to cut corners, your readers will pick up on it — and that's not the impression you want to make!
I = Individual
That's how each reader should feel — like an individual.  The best content makes readers feel like you're having a one-on-one conversation with them.  If they feel like just another member of the herd, they won't connect to you as much.
J = Jazz It Up
Simply regurgitating facts and figures is no way to convince people to read your content all the way to the end.  Just remember, there's a big difference between jazzing up a topic to make it more interesting and turning it into a piece of hyped-up fluff that has no solid information behind it.
K = Kick Butt
That's exactly what a good content writing strategy can do — make you kick the competition's butt!  Great web content shows people that you really know your stuff, so they'll see you as a go-to person in your niche.  It's tough for competitors to overcome that!
L = Listen To Your Readers
The questions and comments you get after you publish a new article, blog post, or video can be a great way to come up with ideas for new content!  Plus, listening to feedback is a great way to make sure you're giving your target audience what it wants.
M = Make It A Priority
It can be easy to put off writing that new blog post or delaying work on your next newsletter.  However, your target audience is hungry for information.  If you're the one to give it to them, you'll be ahead of your competitors!
N = Never Settle
If you're hiring someone to do the content writing for you (whether it's one of your full-time employees or a ghostwriter), never settle for anything less than the best.  Remember, the content you publish is going to determine your online reputation!
O = Optimize, But Not Too Much
It's never a good idea to put all of your eggs in Google's basket — just ask the people who lose all of their rankings overnight, thanks to an algorithm tweak!  However, it is definitely a good idea to optimize each piece of content for a couple of keywords.  That way, you can tap into the power of the search engines.  Just don't go overboard and stuff your content with keywords; no one wants to read that!
P = Pay Peanuts, Get Monkeys
Your content writing strategy doesn't have to turn into a financial strain, but if you're not willing to pay more than a couple of bucks for a piece of content, you're never going to wind up with anything good.  The last thing you want is for your writer to rush your order because he's trying to make a decent hourly wage.  After all, rushing leads to mistakes, and mistakes reflect poorly on you!
Q = Questions
That's what your readers have; it's up to you to answer them.  Creating powerful web content is as simple as answering questions in an interesting, easy-to-understand, informative way.
R = Research
It's impossible to write powerful web content without doing some research first.  No matter how much you may know about the topic, if you try to write off the top of your head, your content is going to look like it — and that's never a good thing.
S = Skip The Selling
Unless you're writing sales copy, your web content shouldn't sell a particular product.  Instead, great web content is used as a "pre-sale".  For example, you might write an article that explains how boosting your body's collagen production is the best way to get rid of wrinkles.  Then, in your resource box, you can tell readers you have a cream that does just that.
T = Toe The Line
Truly memorable content can come from toeing an emotional line.  For example, injecting some sarcasm or anger into your blog post can be a great way to make it more interesting.  Just make sure that your content is legitimately informative — not just a rant!
U = U-Turn
That's exactly what readers will do if they see web content that's got spelling and grammar mistakes, has been poorly spun, or doesn't grab their attention right away.  You only have a few seconds to convince people that your content is worth their time!
V = Victory
As in, what you'll get to experience when you've got a solid content writing strategy.  Remember, your content is the only way you can "talk" to people on the web.  If you want your business to be victorious, you've got to make the right impression.
W = Wait Before You Publish
By letting your content sit for a few hours (or even overnight), you can go back to it with a fresh set of eyes before you hit "publish".  That way, you can make sure it's perfect!  After all, when's the last time you heard about a content emergency?  Waiting a couple of hours to publish things isn't going to hurt you.
X = X-Ray Vision
Your readers can't see what you're thinking.  If your web content isn't clear, concise, and easy-to-understand, you'll never see the success you want from it.
Y = Yearning
That's what readers should be doing when they get to the end of your piece of content — yearning for more.  Whether it means visiting your website to see what else you have to offer, signing up for your email list, or buying your product, if you publish great content, readers will want to see more from you.
Z = Zigzag
No matter what you're writing about, make a point and stick with it.  If your content zigzags all over the place, you're not doing a very good job of answering questions and providing solutions — meaning your content is a failure.
Image © Ilike – Fotolia.com