What Top Niche Web Designers Say about Thesis Theme for WordPress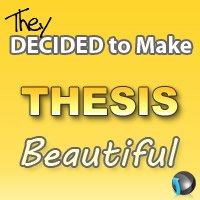 If you have been a reader of our blog for a while, you certainly know that we are using Chris Pearson's Thesis Theme to make this blog unique and to achieve our blogging goals exactly the way we want it. I have working this last week to bring to you Thesis Theme top niche web designers that really impressing me by their unique Thesis customizations and design work, and have them share their opinion about their favorite WordPress framework, I will also tell you about my personal opinion about it and why it's the only Theme that actually worked for me.
Why I am writing this?
During the last a few months, I have experienced several opinions and got a lot of feedback about our blog design and about Thesis Theme in general. There are a limited number of bloggers who like Thesis the way it is out of the box – they think it's acceptable to run it without having to get a custom design. For some people, Thesis Theme out of the box is too ugly – they don't like the idea of having a blog that looks like thousands of other blogs out there. This is a fact – a lot of blogs look exactly the same. I personally don't like it, and I completely agree with that opinion and with those who understand that to get a fancy blog design you have to pay for it.
I have came across a few articles and blog posts last week that was creating a lot of buzz about Thesis Theme. The first blog post was by Lis who wrote a very good Frugal vs Thesis Themes review, and I think it's a very honest and kind of deep review, but I found myself at the end thinking that no matter what theme you are using, you will have to be involved into coding to make it unique. Also, the blog examples Lis linked for both themes as a showcase are actually not presenting enough design or development skills. I believe there are many more creative examples out there.
The other blog post was written by Nicholas Cardot who said No to Thesis Theme. That simple short article exploded and got a lot of attention. I have enjoyed the comments more than the post itself. I personally don't agree with all that Nick said about the Thesis Theme in his post. Although it's another honest opinion, it will not change the fact that what works for you it not necessarily what works for someone else. The market will keep going because people have different experiences, thoughts, goals and tastes.
After reading a few other Thesis Theme reviews and articles comparing theme features, I realized that supporters of Chris Pearson and his marketing team are playing a big role in selling Thesis. They actually can sell it, and they already have done it by making a lot of people think that Thesis Theme works out of the box, which is true for some people, and at the same time false for others – it all depends on the way you understand it. I personally think that Thesis Theme is one of the few things I bought in my life knowing full well exactly what I was buying!
So, after reading more of what people say and think about Thesis Theme, I was inspired to go to the professionals and ask people who actual work with Thesis Theme what they have to say about it, instead of relying on what others – who actually didn't even use it – said about it. Maybe we can make some points clear, and maybe we can change some minds about it in a way or another.
What Web Designers say about Thesis Theme
Now I will give the mic to our great web designers guests, those are the people who really made Thesis Theme looks awesome, and other who did NOT feel comfort with it and they preferred to use other theme frameworks or other tools to create their web designs, I will also showcase Thesis Themes that has been created by our guests. So… let's hear what they have to tell us today.
Note: the order of opinions listed here was regarding respond to my email, nothing else.
Alex Fraiser @blogussion
website: Blogussion.com
Thesis is the only theme I use. On any WordPress project I take on, 100% of the time I will be using Thesis to do it. Why? There are a lot of reasons I see. Thesis is easy to work with, the hooks system is a dream for any WordPress coder. The thought of working in a single file to customize your entire blog really makes the designing and developing parts so much easier. I also like how Thesis is becoming more reliant on the admin panel, and the options are getting more and more useful for designers. In a nutshell, Thesis saves the designer time and cuts down the amount of work significantly.

Bill Chambers @bbbdj916
website: BillChambersDesign.com
I think Thesis is great for someone that wants a "DIY" theme. Thesis has some nice features like a really cool admin control panel for setting the page layout, colors, fonts etc. The downside is, customizing it is overly complicated. I spent more time learning how it worked than actually customizing it. From a designer/developer standpoint, I wouldn't choose it for a project.
Mark McCorkell @markmccorkell
website: MarkMcCorkell.com
I think it is a fantastic theme, but can be overkill for some small blogs. It is awesome in what it can do, and the complex content managing facilities it gives users. There was a lot of detail and thought put into development of it. But there are limits to what you can do with it visually in terms of customization.
Doyle Calvert @DigitalDoyle
website: DigitalDoyle.com
The reason I'm so sold on using the Thesis framework for all my WordPress development is because I can make it look and work like anything I can imagine and only have to concentrate on two files; custom.css and custom_functions.php. The SEO is top notch right out of the box and lets you fine tune to your heart's content. Chris Pearson, the mind behind Thesis, does an excellent job of continually improving the framework and adding useful features. Best WordPress development framework, hands down. You can see some of the sites that I, and the lovely and talented Amy Stewart have created using Thesis.
Kristen Symonds @kristarella
website: Kristarella.com
When you're working with WordPress themes, it doesn't take long for you to realize that you want some good frameworks that you are familiar with, that you can depend on to deliver good semantic code and that help you build sites as efficiently as possible. For many designers and developers that might mean writing your own base theme from scratch, which you can then use in different projects, and for others it may mean using something that someone else has written. Among its many features, one that is often underrated is that you can depend on Thesis to deliver clean, semantic code as a strong basis for your web projects. (Kristarella Thesis Theme portfolio)
John Sexton @heyjohnsexton
website: HeyJohnSexton.com
Thesis is an excellent framework. It offers a rock-solid, intelligently coded foundation that can accommodate almost any design. In that respect, the potential for Thesis is nearly limitless.
I also think that much of this potential currently remains untapped, because there is a certain amount of PHP and WordPress programming skills are necessary to take full advantage of what Thesis has to offer. In that sense, you really need to design with Thesis in mind. It can be difficult to shoehorn an arbitrary design into Thesis, but it is also possible to create striking designs with Thesis in mind.
As someone who enjoys both design and development I have tried to push the limits of what Thesis is capable of in some of my work (see my portfolio, which is also a non-traditional design based on Thesis). I would love to see others take it even further.
In short, Thesis allows for enormous flexibility in terms of design and functionality. There is a learning curve, and some coding skills are required to make the most of it, but the returns are well worth the effort.

Bert @berchman
website: Berchman.com
Thesis provides a foundation upon which you can build any WordPress website. The foundation is clean, well-formatted, Search Engine Optimized code "out-of-the-box." And the elegant simplicity of only needing to modify 2 files (custom.css and custom_functions.php) to achieve great results is brilliant. Before Thesis I had to build every customization from top to bottom, with Thesis I edit 2 files and done. (Bert's Thesis portfolio)
Greg Rickaby @gregrickaby
website: GregRickaby.com
Thesis is how I make my living! It provides my clients and I with a rock solid foundation held together by bullet-proof code with more SEO power than any plug-in could hope to have. I've designed over 100 hundred sites and done 40+ PSD conversions and never, not once, have I ever needed to hack a core file; thus making my clients sites "upgrade proof" and my job to maintain their sites a snap. When time is money, who needs to spend it making sure themes don't break when a new version is released!?
Not anyone who runs Thesis… (Greg's Thesis portfolio)
Thesis Theme Showcase
In this showcase I have added some of our guests personal sites, and a few other sites they developed for their clients, I wanted to make sure that you all see the beauty of Thesis as a flexible WordPress theme framework, and what can be done when a creative mind work and invest time to understand it's power. (I have ordered these designs randomly – to see more awesome designs check out designers portfolios)
Want more Thesis Awesome Designs?
No problem, check out these links, it has some great designs:
Do Web Designers Point their Clients to the Right Direction?
Do web designers need to know about Marketing, Copywriting, Contextual awareness, Strategy and Psychology?
I definitely agree on that, I know that specialty is good, but what's better?
Almost all design sites are full of the same content, from huge lists of showcases, tons of design tutorials that you actually don't have time to read -unless you search for it when you need to solve a problem- and other free for download stuff that help you on creating designs, but what about SEO? what about business strategy?
I have seen a lot of design website that has no SEO at all, all what they thinking of is how to drive massive traffic by submitting their design articles, tutorials and free stuff to design bookmarking sites and other big sites like Digg and StumbleUpon. A lot of design sites are still live because they earn good by selling ads, so.. they are just seeking traffic to be able to sell more!
Should Web Designers read Blogging Tips blogs?
This is an advice and open invitation for web designers to learn and study more, I believe they must know a little about everything, this will expand their horizontals and will lead to more inspiration, it will impact incredibly on their design work and the way designers can manage their project more effectively, it will open their eyes and minds, this is why designers should learn about other things like Marketing, Copywriting, Contextual awareness, Strategy and Psychology rather than focusing on design itself, they must have the ability to serve their clients and help them by providing deeper advices. This is exactly what Paul Boag said on his great presentation about the 5 'New' Skills That Every Web Designer Needs To Know, it's in my opinion a must see presentation, and he also explained on the video how do web designers can learn all this stuff even in the middle of a very busy life, it's really amazing and exciting to find that what I think of is actually what pros are saying!
I believe that Thesis Designers are the most knowledgeable designers with SEO and Marketing than other designers, I am not saying they are SEO experts, but at least Thesis was the first framework that took SEO seriously as s basic future while marketing for it, this opened the eyes, it's another dimension of blog design and development, the good thing here is I feel trusting designers who are working with Thesis Theme when it's about search engine optimization, Thesis actually forced those designers to dig more deeper learning such stuff to be able to answer their clients questions and look more smarter, at least they know how to blog!
Here is the point, I think Thesis Designers are the best ones who can actually serve our business because they know more about their clients needs, they actually go out more often, they focus more on what matters to their clients, I even can go more far than that thinking that Thesis is playing a role in redefining the identity of web designers!
Who Am I to say that?
I am just a very simple guy who studied accountant, business, management, project management, production, marketing, and after establishing several offline business I decided to explore the online world and expand my business, I came across web design and I worked for a design company, then I moved work in the media field for an international media organization that has about 250 journalist, thinkers, writers, developers, designers working all together in one big building, I actually didn't want to work with them as a web designer, I wanted to expand my skills so I worked as an editor, this extremely enhanced my communicating skills while editing news stories and moderating forums, then I moved by my choice to a smaller technology company which offered to pay me more than I am earnings to manage a team of developers and designers to serve big companies and governmental institutes and help them to reach their goals. I moved to live in the States last October 2009 when I first started FamousBloggers to be my window on the internet, it's where I can meet with great people like you, it's the best thing I ever created in my life so far!
I am sharing this to let you know that I am not only a full time blogger and web designer as people think, I am actually all in one!
My Conclusion
Thesis Theme is a great framework for developers and designers.
If you are not one of those then you must ask yourself a very important question before buying it, this question is: Are you welling to code and spend long hours to understand Thesis customization? If you answer is yes.. then go for it and buy Thesis Theme now, I will guarantee that you will have the most joyful time working on your blog, and this is not all, you will also learn a lot of interesting WordPress tricks while working with Thesis, it's the only Theme that actually can teach you, I say that because I love inelegant creation made by humans!
Try to understand the difference between YOU -as a blogger or a business owner- and developers/designers, they are pros, they know what they are doing, you are not going anywhere if you designed your own blog by yourself if you are not a web designer, if you decided to do it, then you taken a wrong decision that might kill your blog and your business future, and you will know at the end that you have just created another ugly blog.
No matter Theme or framework you are using, you still need to do a lot of work to get a unique design, you will never find a way to create your unique design or your client blog design with out being involved in coding, so plz don't believe anyone tells you that unique designs can be done without coding!
I know a lot of web designers who are not able to manage their own business, this is why I think web designers should expand their knowledge by visiting other non design blogs, they should read about other important stuff like Marketing, Copywriting, Contextual awareness, Strategy and Psychology, especially if they are planning to start a business by their own or establish a successful design company.
Thank You
I would like to thank all our guests for their great cooperation and good respond, with out them I won't be able to make this article see the light of the internet!
Are we done?
I don't think so!
Like always.. We have reached the start of our post..
Are you using Thesis Theme? If not, then… Do you think Thesis Theme is for you? Why? Why not?
Have you ever thought about hiring a web designer to get unique design for your blog? If not.. What's stopping you?
Do you agree with me that Designers should learn more about Blogging itself and other stuff?
It's very important for me to hear your voice, your thoughts plz!