How To Be More Productive With Your Online Marketing Efforts
Hopefully if you are reading this post you are looking for more ways to learn how to be more productive both in general and with marketing online. I'm going to use this post as a way to describe many useful strategies I have used to help me stay more productive and consistent with everything I am working on, both with personal tasks and online marketing.
How To Be More Productive By Setting Goals
Goals in my opinion are going to be the #1 way to setting yourself up to have a clear idea in mind of exactly what it is you need to get done. I use a very simple straight forward list that is split into two categories.
The first category is weekend goals that are things that can be done over and over again each weekend, an example of some of these goals are a combination of personal and marketing based goals. Some personal examples would be doing laundry, cleaning my desk of papers, trash etc, vacuuming common areas. Some marketing examples would be checking a specific website, cleaning up my e-mail inbox etc.
The 2nd category would be long term goals. I typically split these out into two sub-categories, general long term goals or specific tasks I would like to get done for my blog. I've made it a point to setup my goals without a specific set due date as I find I'm not as pressured to get things done and most of these tasks can be done at my leisure so long as I am getting the work done. Since I work a 9-5 full time job and have a long commute it's more common that I'm spending a lot more time on my weekends working on all of these goals. I start with the basic weekend goals first and then move into my long term goals.
How To Be More Productive with Evernote
Evernote is a free application that you can use to organize notes and documents between multiple platforms. This application has been my savior when it comes to setting goals and staying organized online. Evernote allows you to sync all of your work between each of your devices, so for example I could be at home and add multiple documents or notes to my Evernote account, I could then go to work and pull up the same information from my work PC or even on my mobile device. I find having it on my mobile device helps for grocery shopping and quick note ideas.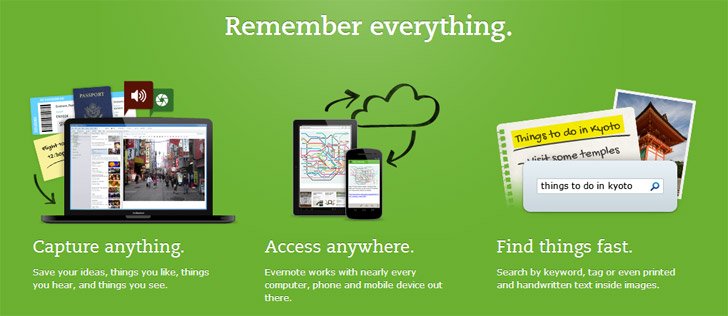 For online marketing I have setup my Evernote account in such a way that I split everything into specific categories.
For example, my main workbook categories are as follows:
Goals & Daily Tasks: This is split between my long term goals and short term goals as I explained earlier.
Resources: Website links, useful blog posts, basic template notes for various programs. General 'copy and paste' templates I use on a regular basis.
Training Resources: Various notes for online marketing and blogging courses I have gone through.
Blog Notes: Specific notes related to my personal blog
Niche Site: Another notebook used for resources that specifically relate to content I use for a niche site I run.
You can check out my Evernote Review here for more details on how Evernote can show you how to be more productive.
Getting your mind flowing and thinking about how to be more productive online
I suggest two major strategies to get you thinking more positively about your goals and actions among staying consistent with your marketing and productivity.
Personal development books – The typical recommendation I hear is to read 10 minutes or 10 pages a day. Check out The Magic Of Thinking Big, The Slight Edge, Think & Grow Rich, and How To Win Friends & Influence People just to name some of my favorites. All of these can be found on Amazon very cheap.
Daily Audio – I run a niche site that revolves around music and I love going to concerts, my 30 mile commute to and from work generally was "my time" to listen to that new CD or listen to music. Making a sacrifice to use this time in your day maybe on the commute in the car to work, the train, and in your free time to listen to audio will really get your mind flowing with ideas. I personally recommend the Smart Passive Income Podcast with Pat Flynn. I made a decision to listen to all 60+ episodes before turning my car ride back into a music hall. I've managed to listen to over 20 Episodes in about 2 ½ weeks. Because of this I have more ideas for my online business and I'm thinking more positively about taking action and staying dedicated to my goals.
 Staying focused on a specific strategy or course of action
When it comes to online marketing, there is a wealth of information out there. Spending time on most marketing forums will make your head spin. Try to find a specific niche or focus you wish to pursue and then take action. There are many ways to create positive results, staying focused on a specific strategy will help you get there.
My suggestion is to find a mentor, someone that you confide in and believe in what they are doing. If you can find someone that consistently provides value then spend more time reading their content, listening to their advice and taking action on what they teach you. There are many different strategies that can help you find success, find a strategy you like and stick to it.
I am particularly intrigued by the content and wealth of information that bloggers like Derek Halpern of SocialTriggers.com and Pat Flynn of SmartPassiveIncome.com share with their readers.
Hopefully this post will help you get started with some ideas on how to be more productive and stay committed to your goals.