Niche Profit Classroom Review: A Complete Course to Build an Online Passive Income Business!
I've been following the free email course and blog of Niche Profit Classroom since its birth. Because of them, I learned many things about internet marketing especially in the the field of niche marketing. The fact is that, Adam Short – the owner of the said course, is really a great mentor when it comes to teaching something valuable relating to internet marketing because he does it in a simple and easy to follow manner.
So what is Niche Profit Classroom all about?
NPC is an Internet Marketing online course that focuses on teaching how to build a passive income online business. The good thing is that, NPC evolves three times from its original 2.0 version to 4.0 version. And they will still be evolving in the future to fit their make money online strategies to that current technology.
Note: As you notice in the image above, it was marked as NPC 3.0. The fact is that, since the NPC 3.0 was updated, their website navigation has changed including the page of the videos. Though the course still has the same concept.
Try their 14-day trial for only a penny
What is NPC 2.0?
Niche Profit Classroom 2.0 focuses on teaching how to build an online business by creating and selling your own product. The course will guide you how to create your own product, give you the right sales tools, teach you how to construct a website, affiliate program, how to boost your profit and beyond.
Niche Profit Classroom 3.0
Meanwhile, the NPC 3.0 version focuses on teaching how to build an online business generating passive income as an affiliate. The course is more on teaching niche marketing techniques where it mostly focuses on finding a low niche market competition having an acceptable amount of demand.
This way, you will stand a chance of dominating Google SERPS and earn the most targeted free traffic that will lead you  onwards to other niche site projects because your first website is now generating an income.
 Niche Profit Classroom 4.0 – NPS.
NPC 4.0 is called the Niche Profit Shortcut that focuses on building a niche site that generates passive income through Google Adsense. In this version, you will learn how to find niches base on products having low competition and an acceptable amount of monthly search volume using Google Keyword Tool.
If you have been using Google Adsense as a way to monetize your blog or niche sites, and are wondering why you haven't earned as much as you expected,  there are many factors and reasons behind your experience. I will explain it on this link.
To Sum it Up
You see, most of the courses are made up of videos so that you can follow the exact pattern that they are using. On the other hand, there are some video tutorials inside having a downloadable document for you to use in applying the technique they teach you.
Try their 14-day trial for only a penny
Not only that, they also have some FREE to use software that is really useful on your online business journey. Some of the tools inside are the following;
Market Profiler: Create A Profile For Your Million Dollar Market.
Keyword Advantage Tool: Find The Most Lucrative Keywords In Your Market.
Niche Profit Press Ultimate: Easily Install Everything You Need in Seconds.
Niche Profit Press Automator: Install a Pre-configured Website in Seconds.
Sales Letter Wizard: Create Converting Sales Letters In Minutes.
Mini-Course Creator: High-converting Hard-Sell and Soft-Sell Emails.
Download Page Generator: Create Your Download Page In Just 5 Minutes.
See the image list below.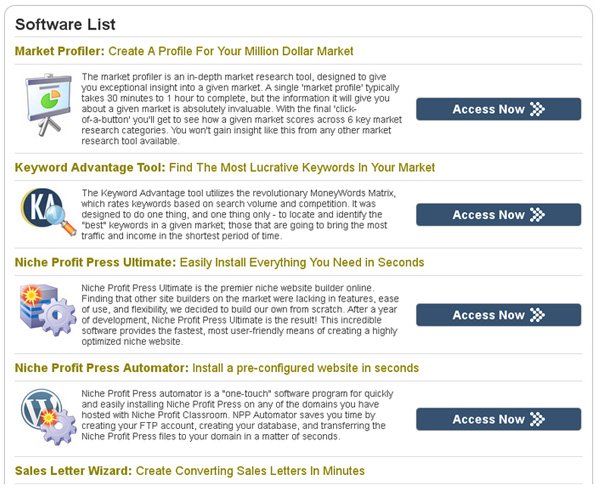 On top of that, they also have a package of hosting the niche websites you've built inside NPC under your account. So you don't need to purchase a hosting plan just for you to apply the techniques you have learned from them. But the domain name is yours.
They also have a Niche Profit Media center that contains all internet marketing related techniques that you can learn. Another thing is their Niche Packs – the done for you niches, Link Tracks -a  list of websites that can build backlinks, and Hot Market – a trended hot niche market where you can try to tap that certain market. This feature is under the Download tab which you can access immediately.
To learn more about this course, I suggest that you watch the video below!
 My Experience Inside NPC.
When I first learned about NPC, I didn't hesitate to give it a try to promote the coaching product over my previous blog. Though I haven't been inside before, I rely on the videos and banners that help me to promote the product. As a newbie blogger I was an unknown person in the saturated blogging niche. So what I did was just keep on updating my blog and promoting it through social media.
But after 6-8 months of blogging, I still had not earned a penny from my blog. That made me almost quit blogging. But suddenly a credit appeared in my paypal account. The credit was my first earnings as an affiliate marketer. Please see the image below.
And then in June 2010, I was able to get inside Niche Profit Classroom for the first time because I recommended the course to my employers ( I was hired as a full-time Virtual Assistant in that time for a period of almost 5 months).
The most important thing that I learned inside NPC is this qoute.
Success is the Repetition and Action of the Fundamentals.
Just recently, I was able to get inside NPC and learn their latest version – the Niche Profit Shortcut which I am going to apply in the near future.
My Words About Promoting Affiliate Products.
I've learned in my internet marketing journey that there are various techniques on how to promote affiliate products. The first one is promote it to your blog, the second one is taught inside NPC 3.0 which was building a niche site, the third one is by building review sites, and the fourth one is by promoting it through social media like twitter and facebook. There may be other techniques that were not mentioned above but those things works in my affiliate marketing journey.
In the end, I am hoping that by sharing my experience about affiliate marketing, you learn something from me, even if you say it's a little bit. Lol! Anyway, the Niche Profit Classroom is really worth an investment.
Try their 14-day trial for only a penny
Cheers!
– Felix