Ready to Write Your Traffic Generation Piece of Art?
Yes! I am sure that our coming blogging contest will change the way you look at your blog and  add incredible value to your writing skills. The best part of this is the learning experience you will gain.
Our coming blogging contest is going to be about traffic generation! It's about how to drive traffic to your blog. You will be able to share your experiences and learn from others. There is absolutely no reason to miss this one!
Traffic Generation Contest will start on the 1st of March 2011
Why we Organize Blogging Contests
As you may know, competition is human nature. We all have it inside of us! When we organize blogging contests, the team and I actually have more than one goal to achieve here, but mostly we focus on creating a learning experience in a fair competitive atmosphere. Everybody will win, and we will gain more friends next month, so let's do it!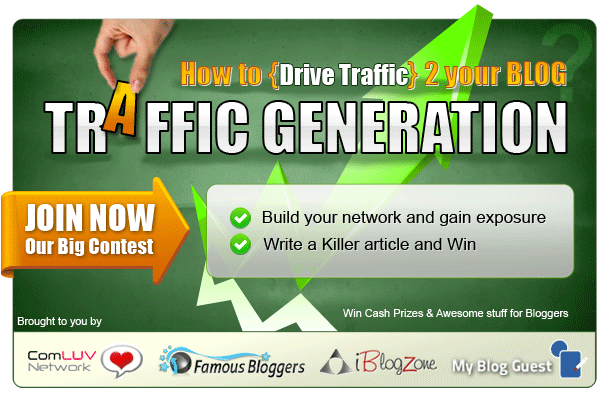 Our Traffic Generation blogging contest organizers are:
Why Traffic Generation?
Traffic Generation is something we all want! It's what makes us money. If you have a website or a blog that nobody visits, what's the purpose? Please don't tell me you blog for fun! In case you do, I don't! I don't blog for fun because fun has no passion in it! Bloggers like you and I must have a goal and a purpose for blogging, a real purpose. For you, it should be make money from blogging, or you probably wouldn't be here in the first place.
So, to be able to make money from blogging, you must drive quality traffic to your blog!
It's as simple as 1 + 1 = 2
And this is exactly what we will learn together!
What else?!
There are a few things I would like to point out. The first thing is that we wanted to let you know before start of the contest so you can have a good chance to prepare your best article to enter! This will help us to avoid expanding contest and promotion time, and we will work right after the entries submission deadline to do our calculations and involve our judges to evaluate the entries.
Are you in? Start writing NOW!
Don't miss this chance, as we have done good work to bring great cash prizes for you, and we will have quite a good number of winners. It's time to focus your energy on writing your piece of art about traffic generation.  Take a walk, refresh your mind, and start writing!
Andy has a nice post about the new blogging contest at comluv.com, it's good to read.
Of course, more about the contest and rules is coming soon, so stay tuned!
Want to sponsor?
Good idea! in our last contest we've got:
So, Contact us now and we will get back to you as soon as possible with details and information about the contest and sponsors levels.
Question are welcome!