InfolinksO on Gizmodo.com and Coming to a Blog near You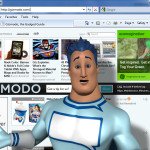 Here at Infolinks, we love strategizing marketing approaches that are "out of the box" to encourage our publishers and increase our online presence. The InfolinksO is our animated superhero who has become a spokesman of sorts, rallying support of Infolinks In-Text ads to big named blogs across the web.
We produced a series of videos featuring this fun animated character as he actually "flies into" different websites, commenting on their content (and sometimes their scandals) while sharing the "magic of In-Text ads."
I personally think the coolest part of this campaign is the interactive variable. Infolinks has a steadily growing Facebook Community, and we've called on our fans to help support the InfolinksO on his mission.
The InfolinksO's first stop was PerezHilton.com and our community steady Tweeted the gossip blogger and commented on his Facebook page: "Perez, let the InfolinksO make magic with your content."
The InfolinksO's next target is gadget tech site Gizmodo.com. Check out the InfolinksO's video here:
The InfolinksO Visits Gizmodo.com
Again, our community is getting behind us by blasting Gizmodo on all fronts with InfolinksO's message. Our publishers' success is also our own and vice versa. By making our marketing strategies a group effort our community grows stronger and our message becomes louder.