Have a Guest Blogging Question? Ask Ann Smarty!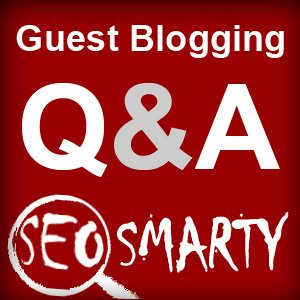 Hi everyone, this is another awesome Q&A ride, our guest for this week is Ann Smarty, a bright name in the SEO and internet marketing world, and one of the first bloggers who believed in the power of guest blogging, she started a community for guest bloggers and hosts to connect both worlds.
Ann Smarty is an experienced blogger, search geek and a social media enthusiast. If you are serious about blogging, be sure to join Ann's community of guest bloggers My Blog Guest: there you will find bloggers for your site as well as guest posting opportunities to promote yourself.
Correct me if I am wrong, but Ann founded the MyBlogGuest.com which I think is the only community that is dedicated for this purpose.
Ann also writes here on FamousBloggers and she has been our main media partner for long time, we used to run Blogging contests together, check our recent blogging contest.
Have a Guest Blogging Question?
Today, we are having Ann in our Q&A week, this means you can post all your guest blogging related questions in the comment section, after 7 days from today we will close comments on this post, and you will no longer can post questions! After getting all questions from our readers, Ann will answer these questions in dedicated blog post to be published latter.
[box type="note"]You may add your Guest Blogging questions starting from today, we will close questions/comments in one week from Today! All answers will be published next week in a special blog post.[/box]
Please, make your question short, straight to the point, and as clear as possible, this will make it easy for us to answer it.