Find CommentLuv Premium Blogs in Your Niche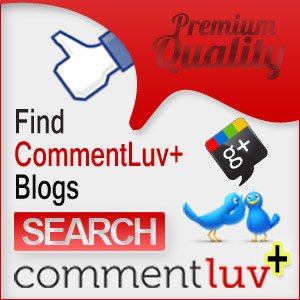 Many bloggers and internet marketer now are using blog comments as a marketing tool, but some times it's hard to find blogs in your niche to comment on.
Don't worry! Be Happy! That was before!
Now, and after Andy -the founder of CommentLuv- has coded an inner CommentLuv Search Engine especially for Commentluv enabled blogs, you can easily find CommentLuv enabled blogs on your niche. And, this is not all, you can even make it more efficient and narrow the search to a particular keyword.
The new CommetLuv Global Search is a Google based search engine, so basically it's a custom search that contain only CommentLuv enabled blogs in the results page.
So, let's say you wrote a blog post op the topic of "how to blog", and you would like to find a perfect match for your post keywords to get backlinks to that particular post, you can then search for "how to blog" keyword in the Global CommentLuv Blog Search, the search engine will return blogs that you should comment on.
Here is what you will get:
I consider it a very good addition to the many awesome premium stuff that comes out all the time by Andy and the commentluv.com site.
How to list your blog in CommetLuv Search
Your blog will be listed automatically into the CommentLuv Premium Search Engine once you purchase and install CommentLuv+ on your blog, this will increase the visibility and find-ability of your blog indeed.
Click her to Visit CommentLuv+ or Find CommentLuv+ Blogs.