5 more Reasons you must Guest Post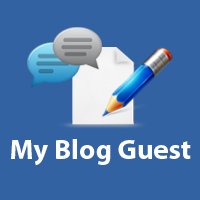 Ann Smarty
has done a great job of listing down
20 reasons you must guest post
. Those reasons should be good enough for anyone to start
guest blogging
. However while writing a guest post for
dailyseotip.com
to promote my
cna training blog, I had several reasons that do not belong to that wonderful list. Some of these reasons may be valid for the
myblogguest community
and hence I requested Ann to share this post with the readers.
1- An idea that does not fit into my own blogs
I study seo regularly to take care of seo work for my own websites. But I do not have a seo blog of my own. So when I had an interesting idea about hiding the backlink, posting it on some other established blog was the natural decission. It would have been so out of place on my cna training blog.

2- Break into a new social media
I am surprised that this advantage of guest blogging is not given due importance in any of the articles about guest blogging till date. My article on dailyseotip.com has already got 7 sphinns though it was not exactly the best written one. I can not think of a better way to build a trusted profile on a social media of your choice.
3- Promote your linkbait
Both an interesting article and right exposure are the most important requirements of a successful linkbait. While nothing stops you from producing an interesting article, as a new blogger, you may find it  really difficult to get the linkeratti to visit your bog. A guest post on an established blog is a great way to expose your article to the right audience.

4- Fight negative reviews
What do you do when a search for your product or service brings up a negative one at the top? There are several ways but guestblogging on number of authority blogs may be one of the fastest way to push those negative reviews down. While not many bloggers will allow you to write a review of your product, they will not mind you linking to a positive review from the post.

5- Get my new blog out of the sandbox
It is a well known fact that Google looks at new blogs with suspicion and takes sometime before showing them up on search results for even long tail keywords. Getting a link from reputed website like dailyseotip.com or bloggingtips.com is the fastest way to get out of the sandbox. I am aware that the link building advantage is already listed in the original 20 reasons. However while for an established website it is one more link to the thousands of links that it has, for a new blog like my own it is the fastest way to get indexed and start appearing on google SERPs and hence infinitely much more valuable.
Let me know what you think of my idea in the comments section, and feel free to add your own guest blogging ideas.